Field Drainage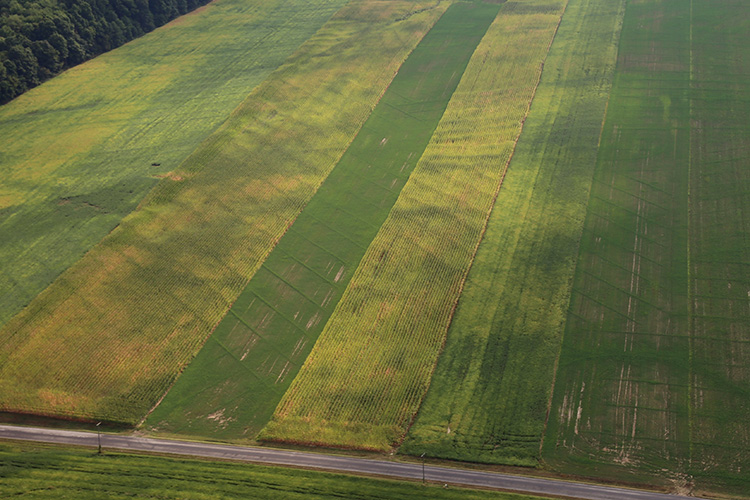 Tile (Subsurface) Drainage
Tile drainage is the process of installing subsurface drain tile to remove excess water from the soil. Results include:
Earlier planting (and harvesting)

Higher and more consistent yields

Total field usage through elimination of wet spots previously not tillable

Better plant stand and less plant stress

Drought resistance attributed to a deeper root system

Less runoff (and resulting erosion) on well-drained soils

Less soil compaction and lower machinery operating costs
Using GPS technology, Orr Construction can quickly and efficiently:
Survey the site in 3D, including ditches, muddy areas, and areas otherwise difficult to access

Analyze the data in 3D, offering greater understanding of field shape & slopes, natural surface water flows, and watershed zones, all resulting in better design decisions
Design your complete system in 3D, enabling us to determine optimal tile depths across the site, resulting in a consistent water table and a better overall design
Install the complete drainage system while accurately and automatically controlling the depth per design specifications
Map the installed drainage system for future maintenance or expansion
Tiling 101
Today's tile drainage uses corrugated slotted pipe installed in a pattern that best fits the topography of the farmland.
Tiling involves a network of laterals connected to one or more main tiles that drain to an outlet. While patterns vary, several basic patterns have evolved that represent common installation practices:
Herringbone system. The laterals enter the main at an angle and from both sides. Commonly used to drain narrow depression areas.

Parallel or Gridiron system. Similar to the Herringbone system but laterals enter the main from a single side. Used on flat, regularly shaped fields with largely uniform soils.

commonly used on flat, regularly shaped fields with uniform soil types.

Double-main system. A combination of the Herringbone and Gridiron systems in which a field is divided by a natural waterway, ditch, or other natural barrier.

Random system. Commonly used on undulating or rolling topographies where isolated wet areas must be drained.